SEO Agency Dubai
Infobahn has over 15 years of experience in the Middle Eastern SEO market. We are Google certified SEO & PPC specialists, and have successfully launched over 200+ SEO projects with positive results. We are a leading search engine optimization company in Dubai, UAE that specialises in helping businesses grow online. Our team has been working with companies of all sizes to help them get their websites ranked on the first page of Google, increase their leads and sales, and ultimately grow their business. This is an industry we have a deep and detailed understanding of. For your SEO needs, you need a professional in SEO marketing Dubai that has been around and knows the ins and outs of what makes a website rank well. They need to know what Google wants, what users want, and how to make those two things match up. We achieve this comprehensively and strategically.
Services Offered By Infobahn SEO Agency in Dubai
SEO Audit
In the context of search engine optimization, an audit is a way to organise and evaluate your website's performance. It can be used to diagnose problems in your website's structure, content, and metadata, as well as to determine if there are any issues with the quality of your backlinks.
Auditing your site can help you understand how well your site currently ranks for certain keywords and phrases. An SEO agency Dubai utilises an audit to identify threats, weaknesses and potential areas for improvement so that you can optimise your site in order to improve its ranking.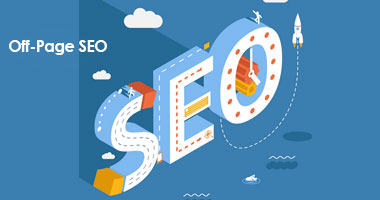 Off-Page SEO
Experts at a No 1 SEO agency in Dubai will help you optimise your website to get higher rankings in the search engines. Our team of professionals will work with you to identify the right keywords for your business and create high quality content that will increase traffic to your site and improve its ranking on Google.
On-Page SEO
The first step towards getting more visitors to your website is to make sure that it is optimised for search engines. Competent and certified team at an SEO Dubai agency will effectively and extensively analyse your website and make sure that everything from the title tags to meta descriptions are set up correctly so that Google can easily crawl them and index them appropriately.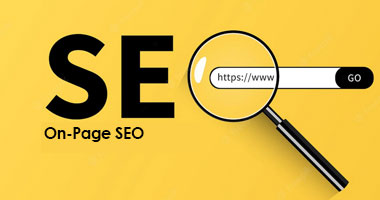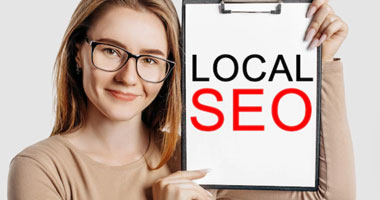 Local SEO
Infobahn SEO agency Dubai runs local SEO services and strategies for businesses located in Dubai and other areas of UAE. We will help you optimise your business listing on Google My Business so that people looking for similar businesses in their area can find yours too.
These top SEO services in Dubai will also help you build citations for your business address and phone number so that it appears first in the search results. We will also build a Google Maps listing for your business with a custom map marker image and description, which helps to increase the visibility of your brand online.
Voice SEO
A type of search engine optimization that aims to make content more accessible to users who are searching through voice commands. We at Infobahn SEO agency Dubai do this by optimising content for voice search queries that are typically shorter and less specific than text-based searches. The primary goal of VSO is to create high-quality content that can be easily understood by both humans and computers through speech recognition technology. VSO helps businesses increase their online visibility, drive more traffic towards their website and improve customer experience.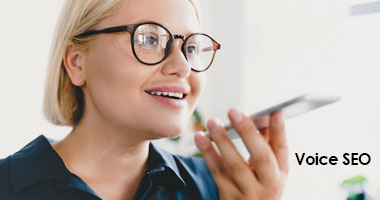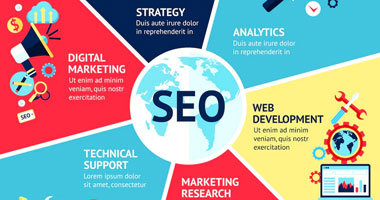 Technical SEO
This is the first step towards having an optimised website. Technical SEO helps to ensure that your site is crawlable and indexable by search engines. This involves making sure that your HTML code is clean and easy for crawlers to read. It also includes optimising your content so that it can be easily understood by the search engines. Components are content quality, site performance, XML sitemap status, accelerated mobile pages (AMP), robots exclusion standard (robots.txt)
An SEO agency Dubai technical optimization also includes ensuring that all URLs are properly linked together so that when a user clicks on a link within your website, they get taken to the correct page without any redirects or broken links along the way. This also applies to images on your site as well as any video embeds you might have included within your content. The goal here is to keep things simple and easy for both users and search engines alike.
Industry-Specific SEO
If you are a business that is operating in a niche industry, this service is part of SEO Dubai UAE to get your website listed at the top of search engine results pages (SERPs) for relevant keywords. This service is especially useful if your business operates in a highly competitive industry.
GEO-Targeted SEO
This service at our top SEO agency Dubai focuses on optimising your website for local users, so that you can attract more traffic from your target audience. With this service, you can increase the visibility of your website in search engine results pages (SERPs) when users from specific locations perform searches related to your business or industry.
Online Reputation and Brand Management
Infobahn SEO agency offers a range of professional SEO services Dubai designed to help you protect your reputation from negative content posted about them online. We mitigate damage, identify and remove negative content, monitor brand-related conversations, protect your online brand and business against adverse listings in all search engines, Google, Yahoo, Bing to manage a favourable online reputation.
Track Positions and Strategy Adjustment by an experienced SEO agency in Dubai
There are no shortcuts to positioning at Infobahn SEO agency Dubai. A detailed strategy, combined with a daily reporting system, is what it takes to dominate the top of Google for any keyword.
We believe in a detailed strategy that involves analysing existing keywords as well as generating new ones that are relevant to your business. We then create a plan for how we will achieve top rankings for these keywords using our tried-and-true methods.
The only way we know that our SEO Dubai services and strategies prove effective and successful is through tracking and regular reporting. This allows us to monitor your progress and make adjustments as needed.
Why is Infobahn the best SEO Agency in Dubai, UAE?
Infobahn is the best SEO Agency in Dubai, UAE because of its dedication to helping clients achieve their goals. Presence of a one-on-one communication system that ensures that your business has a dedicated representative working on your account, that will keep you informed of your campaign's progress and address any issues that arise. The company also performs an SEO audit for your website so that you know exactly your weaknesses and what improvements it has made since the SEO strategy plan rolled out.
FREQUENTLY ASKED QUESTIONS
How long should I do SEO?
SEO is a long-term strategy, and the results you see from your efforts will be cumulative. The earlier you start, the better! 
Why is SEO important to my business?
SEO is important to your business because it allows you to be found online, which means that you can attract new customers and increase sales.
Do I get to choose the keywords that rank on Google?
Yes, you choose the keywords that rank on Google. After all, you know your business better than anyone else, and you're well-informed about your products and services. Let us know the keywords you want to target and we'll do a keyword analysis to determine their relevance and search volume. If you're not certain about effective keywords, our SEO agency Dubai has certified SEO specialists who will conduct a thorough keyword research and guide you through the process of selecting from the recommended list or even suggesting new ones.
Which industries do you work with?
As the best in SEO Dubai UAE, we have demonstrated our proficiency in SEO through our work with various  industries. Our clients range from small businesses to large corporations, and we have experience working with all of them. Our SEO team is trained to understand the unique needs of each industry, so we can provide you with a solution that fits your needs perfectly.
We've worked with clients in the following industries:- Construction, Interior Design, Hospitals and Medical Trading, Academic Institutes, Financial Organisations, Manufacturers and Trading Companies ,Event Management Companies, Retail Industry and many others.
Do you write content for the clients?
Yes, we write content for our clients. Our content writing services are part of our standard SEO package. We provide engaging, unique and creative content to improve your SEO results.
How Do Your SEO Services Work?
We're glad you asked! Services at our SEO agency Dubai work like this: we create bespoke SEO campaigns that are strategies, campaigns and approaches in line with the goals of the business website. We conduct in-depth analysis of the website and target audience so as to generate and publish content that is informative and resourceful. Our SEO strategies include competitor analysis, keyword research, content writing, on-page and off-page SEO optimization, website technical and content optimization, link building, social media optimization and blog posting.
Which of SEO and PPC is more effective in the UAE market?
SEO, or search engine optimization, is a strategy that relies on organic, natural search results. It involves developing content that is relevant to your audience and creating an architecture that allows search engines to easily find it.
PPC, or pay per click advertising, refers to an online advertising model where companies pay for each time their ad is displayed or clicked on by users.
Because of the UAE's rapid growth, more people are choosing local options rather than global ones. Therefore, startups should pay attention to SEO as well. Our SEO agency Dubai generates organic traffic for startups by implementing a strategic plan which includes both SEO and PPC campaigns.
Do you set KPIs for each project?
Yes, but the specific goals and metrics are different for every business. The KPIs will be determined after a complete website analysis is conducted on your company's online presence.
Do you provide regular reports on the status of our SEO campaign?
As a premier SEO agency Dubai, we make it a priority to keep our clients informed about their website's position on search engines monthly. We offer more than just a progress report. We also schedule regular meetings and discussions with our clients to address concerns, provide recommendations based on genuine insights into their businesses. Our clients can always reach us to discuss their concerns about our work, and we provide solutions for any discrepancies that may arise.
Your SEO Price Quote?
The cost of SEO projects varies depending on the website and strategies used. The price also depends on whether you're looking for high-quality results, or just getting a basic job done quickly. Our SEO agency Dubai has customizable packages based on factors such as your website size; business type (B2C vs B2B, etc); available keywords numbers (local & global), etc., so please DM us to know more about our pricing!